Linen Jamdani Sarees
Elevate your style with Loomfolks' Linen Jamdani Sarees, a harmonious blend of artistry and luxury meticulously crafted by our skilled weavers and artisans. These sarees are a tribute to the dedication and craftsmanship of our talented artisans, who pour their heart and soul into every creation. Handwoven with precision, these sarees feature intricate Jamdani patterns that exude timeless elegance.
Sale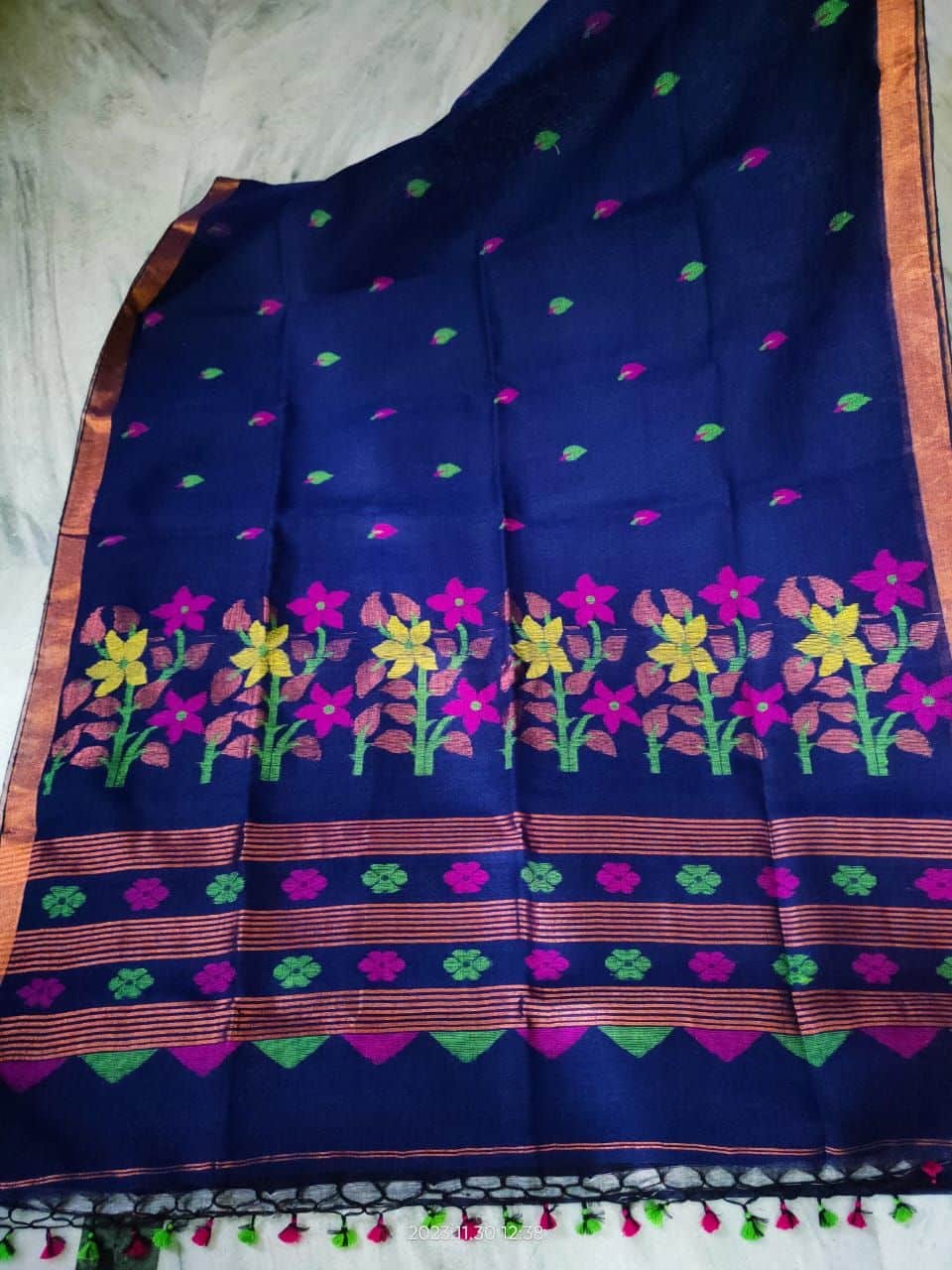 Price :
You Save:
₹

1,300.00 (23.64%)
SKU: JLP122309
Embrace The Vast Culture Of Authenticity By Shopping From The Range Of Loomfolks Linen Jamdani Sarees
Jamdani is the form of weaving that takes our weavers a lot of time and hard work. Loomfolks provides a wide variety of Linen Jamdani sarees available for the people who respect the ancient Indian culture and want to embrace the culture in their day to day life. A variety of patterns are created by weaving threads together to make one beautiful Linen Jamdani saree. The craft requires a lot of hard work, patience and creativity right from weavers' hands.
Jamdani sarees are beautiful to look at. Bright colours are considered to create the most beautiful and ethnic exclusive range of Linen Jamdani sarees at Loomfolks. Our Jamdani Sarees have a wide variety of colours available in contrast. You will get beautiful contrasting Linen Jamdani sarees available at Loomfolks. Linen jamdani sarees are often worn at royal events because of the great significance of jamdani as an art style. You will see celebrities wearing the jamdani art style on auspicious occasions that they consider pure and sacred. There is a high significance of the Jamdani art style among the people who respect their culture and have pure knowledge of ancient Indian history.
A beautiful Linen Jamdani Buti saree can send you on a cultural reset. The sarees are comfortable and extremely beautiful because of the contrasting colour options. You will get a beautiful Red and Green contrasting Linen Jamdani Buti Saree exclusively available at Loomfolks. Traditional contrasting colours make a person look very ethnic and royal. We also present modern contrasting colours such as navy blue and sky blue. You can also get a gorgeous sage green and mustard yellow combination, which will perfectly go with a day event of any sort.
The Linen Jamdani saree collection at Loomfolks is exclusively available for people wanting to experiment with their style with a little bit of culture and ethnicity. You can pair your jamdani saree with Gold jewellery, and it will look as if you are directly coming from the runway. Linen Jamdani sarees were an exclusive part of the Mughal culture, representing a brief period of Indian history. High-quality linen is used to make the most exclusive Loomfolks Linen Jamdani Saree collection. Make sure to buy our entire collection before it runs out of stock due to its popularity!.
FAQs
1. What is Jamdani saree?
Jamdani or Jamdhani or Dhakai Jamdani is a fine muslin textile, intended to enhance the look and appeal of the saree on which it is handwoven. In India, Jamdani is produced in the state of West Bengal. Weavers also do it in Benares, Uttar Pradesh.
2. What is special in Jamdani saree?
Jamdani is a very labour intensive form of handloom weaving. And it is considered one of the finest varieties of muslin that is handwoven from cotton; the art flourished under the Mughal patronage.