10 Stylish Saree Designs To Rock Your Wedding Look
Reviving tradition and rocking a simple saree can make many heads turn in a wedding ceremony. If you are worried about what you will be wearing in your next wedding invitation then you are at the perfect place today. We will be sharing with you 10 stylish saree designs which will make you the limelight of your next wedding event. 
Purple is the colour of royalty and to prove this true you can definitely wear this beautiful purple handwoven linen jamdani saree. This saree will make you look like an epitome of the word beautiful. On the upper side of the pallu, we have a beautiful handwoven pattern of leaves which is followed by another handwoven pattern on the lower side of the pallu. You will also be glad to see a red thin border going either side with the pallu and at the end of the pallu, you will see a beautiful purple border enhancing the beauty of the saree. This saree will look best with gold jewellery. Style this saree with your traditional gold jhumkas and you are good to go!
Adding to the list of beautiful purple sarees, our second purple saree is perfect for lightweight wedding occasions and events. If you are attending a day wedding event then you can go for this beautiful floral design jamdani saree. The flowers which are seen on the pallu of the saree are all handwoven by talented weavers across India. On the border of the saree, you can see a thick yellow colour which enhances the youthness in this saree. This saree will be the perfect outfit for a haldi ceremony. The tassels at the border of the pallu are also adding liveliness to the saree. The pink and yellow combination of this saree looks very trendy and modern. Pair this saree with tassels earrings to give casual vibes.
Going to a wedding and not considering wearing red? Cannot relate. Red is the colour of love and definitely the tradition of India. We present to you this beautiful Brick Red Golden Check Linen saree which is made by Indian weavers especially for Indian women who want to carry their tradition and culture to the next generation. The pallu of the saree is quite beautiful with the thick golden handwoven checks. You will also see a thick golden border going all around at the top and the bottom of the saree. You can definitely pair this saree up with your favourite gold earrings. If you keep the jewellery minimal with this one then you will be definitely the life of the party. 
Our number 1 seller Golden Tissue Linen Saree is actual goals for an outfit that you want to wear on your best friend's Haldi. Our Golden tissue linen saree is actually really comfortable to dance in and what's more you want? The beautiful and simple design that this saree carries is one of its main attractions. This saree looks great because it is quite lively and can be experimented in different styles. You can wear stone earrings or mirror work earrings with this saree and enjoy it as a casual look. You can also go all out of your comfort zone and wear some dramatic earrings with this saree to give it an all new look. You can also experiment with the blouse of the saree. Overall, this piece of clothing can be worn in different ways and different styles. 
One of our most beautiful yellow saree is the Chirala Sico Saree with Butta. This saree gives you major traditional vibes with a simple and elegant design. The border is thick golden colour. The border is present at the bottom of the saree to make it look more elegant. The pallu of the saree is in the colour Navy Blue adding a perfect contrast to the lively yellow colour of the saree. You can also see tassels at the end of the pallu making it look more casual and simple. You can pair this saree up with the minimum jewellery to keep the casual vibe alive. Overall, this piece is really elegant and simple. If you are looking for some evergreen sarees then you can definitely buy this one! 
What about the most joyous movement of a wedding? Sangeet ofcourse! We present to you our most loved Parrot Green Handwoven Linen Saree With Golden Zari Border. If you are invited to a Sangeet party and you have nothing to wear, thank us later because we got you covered. This parrot green saree gives you major mehndi vibes. Wear this saree on your next Sangeet event and trust as every one will ask you where you bought it from. The pallu is as pretty as it should be and the golden zari border makes the saree look more interesting. Make sure to wear your favourite golden necklace with this saree to make it look more beautiful on yourself. 
If you are a lover of exotic colours like sea green then you will definitely like our Sea Green Linen Sequin Saree with Artistically Handwoven Pallu. The colour of the saree is a really beautiful and perfectly exotic shade for upcoming weddings. Everyone knows the importance of colours while choosing a saree and there will be no second thought if you look at the colour of this saree. The pallu of the saree is also especially handwoven artistically by Indian weavers with perfect contrasting colours of pink and yellow. At the bottom of the pallu, you can also see a thin golden border which is followed by tassels. If you are really bored with basic colours then you can definitely go for this saree.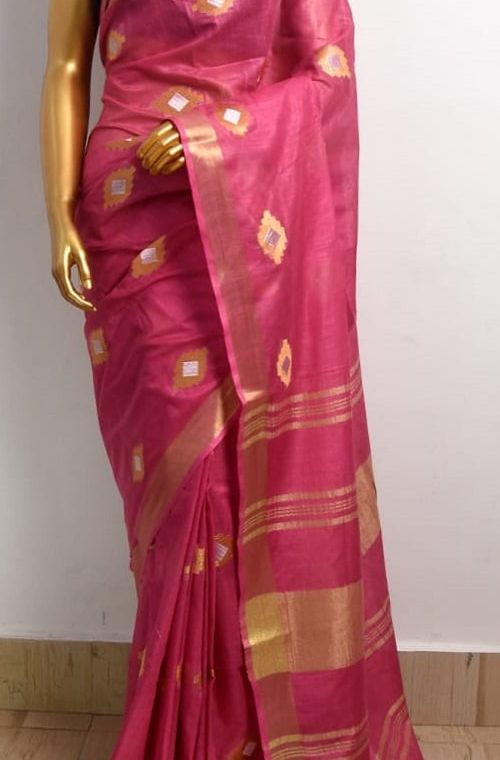 Coming to some basic and traditional colours like pink, this Pink Linen Embroidery Saree With Beautiful Butta Work will definitely caught your eye. If you are planning to go basic this wedding season then you can definitely try our pink traditional embroidery saree. The perfect butta work in this saree makes it look more royal and traditionally appropriate. You can either give this saree to your mum or to your newly married sister as a perfect wedding gift. This will definitely make their day. The border at the bottom of the saree makes it look quite elegant. The tassels at the end of the pallu are also adding to the beauty.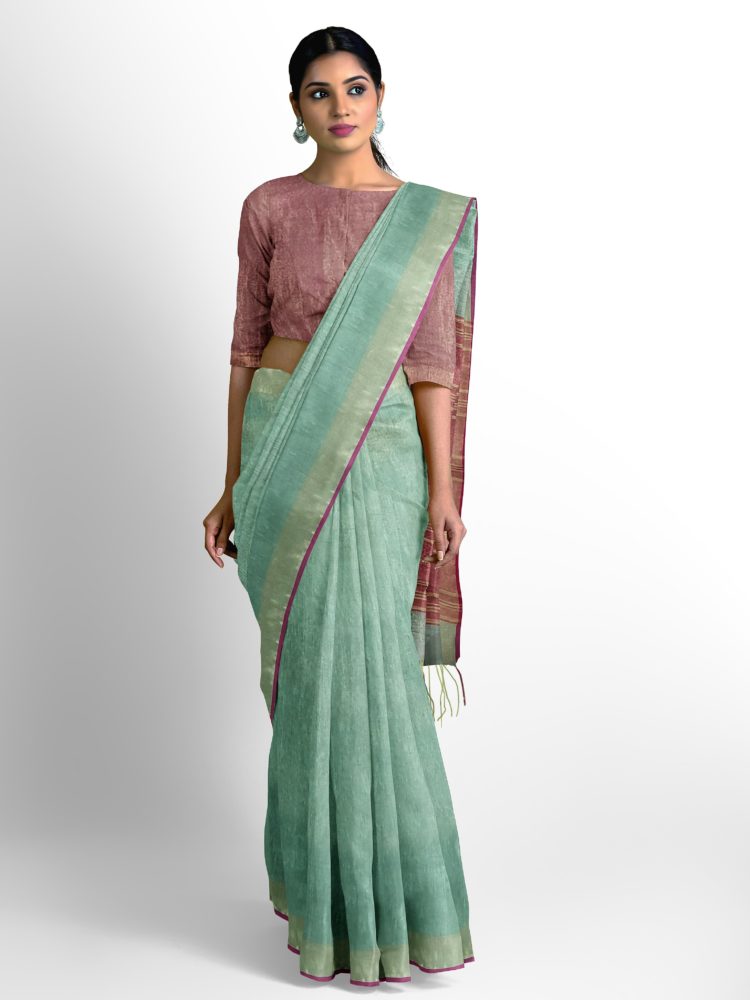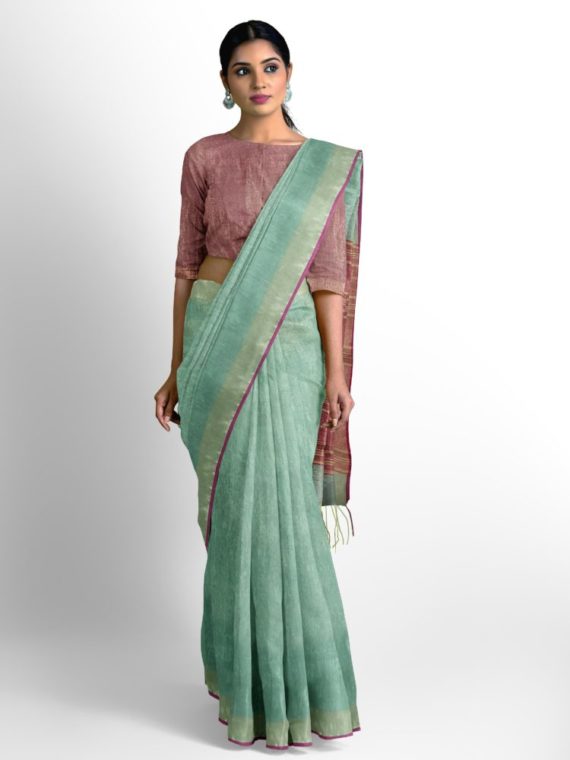 If you are still new to wearing sarees and you just want to keep it really basic then you can go for our favourite Beautiful Green with red pallu tissue linen saree. The colour of the saree is really beautiful to look at and the red border and pallu makes it look more interesting. You can definitely see the elegance in this saree by just looking at the picture. The light green colour border at the bottom and top of the saree also makes it look pretty clean and simple. If you want to keep your wedding events basic and not much over the top then you can definitely buy this saree and rock it. 
Last but not the least, we have the most favourite and royal colour that everyone goes for in the wedding season that is navy blue. This handwork embroidery navy blue saree will definitely catch your attention if you are enthusiast of royal colours like this. The golden contrast in this saree definitely adds to the beauty of the saree. You can also see the beautiful detailed hand work which is given on the pallu of this saree. Tassels at the bottom of the pallu also add some life to this saree. If you want to go for something traditional and heavy when you can definitely bring this saree home. Select this saree if you have a close wedding to attend or if you just want to have fun and look your best!
You can buy any of these sarees on the official website of Loomfolks. Visit Loomfolks for many such traditional sarees. We have a huge collection of sarees that you would want to wear on your next wedding event!